Smart Choice is the food wellness awareness program at the University of California, San Francisco (UCSF). The program was developed by UCSF Medical Center Department of Nutrition & Food Services and the UCSF Campus Life Services - Retail in March 2009 with the goal to promote healthy eating among UCSF retail food consumers.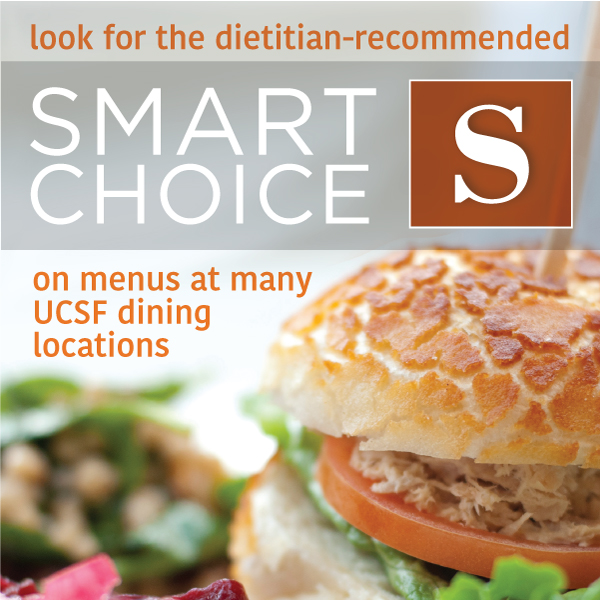 The program has two main objectives:
Increase consumers' awareness of nutrient content of foods by providing nutrition facts, labeling, and icons.
Increase consumers' likelihood of buying healthy items via promotion of healthy items (i.e. incentives).
How to identify Smart Choice items:
Entrees/meals meeting the following criteria will be identified with a Smart Choice icon on a menu sign or "cling" at the serving areas. If the item is packaged, the icon may also be placed directly on the package.
Smart Choice criteria are summarized in an easy-to-read format and posted in café area.
Specific nutrition facts for Smart Choice items are available to customers, posted in café and are available in writing. This web site will provide links to nutrition information in the future.
The Smart Choice nutrition criteria are based on health maintenance and disease prevention. Customers with existing health problems, such as obesity, diabetes, or hypertension, may need to adhere to more stringent criteria than offered by our program. As with any public health promotion, our guidelines are general rather than specific. We encourage customers with specific health concerns to meet with a registered dietitian for individualized counseling and meal planning. For more information see our standards for meals, beverages, and our vending.